Hotel Victoria Châtelet
Close to Notre-Dame (10 mins on foot)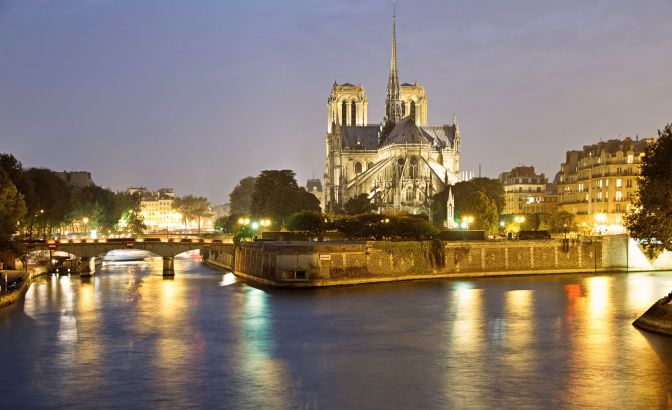 The hotel is near Notre-Dame (10 minutes on foot) so you have easy access to the jewel in the crown of Parisian landmarks. The cathedral is the most visited monument in the city. Also on Ile de la Cité, just next to Notre-Dame de Paris, the Sainte-Chapelle, its stained glass windows now restored to their original glory, is a jewel of Gothic art built at the behest of Saint Louis in the 12th century. Just by it, the Conciergerie, on the banks of the Seine makes for a stunning sight when lit up at night and carries in it the entire history of Paris. A UNESCO world heritage site, the Conciergerie is the oldest section of the Palais de la Cité, Paris's first royal residence. In the 6th century, Clovis took up residence on the island, Hugues Capet set up his council and administration there, and Philippe le Bel made it the seat of his Parlement de Paris. Its name is derived from the "Concierge", a high officer of the royal court, chosen by the king to maintain public order and keep a register of prisoners. Converted to a state prison in 1370, after the palace was abandoned by Charles V, it became the antechamber of death during the French Revolution. Today, it is open to visitors, who can view the dungeon where Marie-Antoinette spent her final days.
On the right bank of the Seine, the Hôtel de Ville has housed the municipal authorities of Paris since 1357. The first version of the building was commissioned by Francis I who, in around 1533, built a dazzling, refined private residence, inspired by the spirit of the Renaissance. Completed in 1628, it was destroyed in a fire by the Commune in 1871 and was subsequently rebuilt. It is Europe's largest and most modern. Discover it on a visit through the sumptuous salons and the Salle des Fêtes, designed as a replica of the Galerie des Glaces in the Palace of Versailles. The Hôtel de Ville is a 5 minute walk from hotel Victoria Châtelet.
As you enter the hotel, on the same avenue, take a moment to admire the Tour Saint-Jacques, a flamboyant Gothic bell tower. From the top of its 52 metres, enjoy one of the most breath-taking views in Paris.
For the Eiffel Tower, hop aboard the 69 bus that stops in the Place du Châtelet right by the hotel. This will take you straight to the Champ de Mars, where Paris' most iconic monument awaits you!